BERLIE BELT FILTER PRESS
Turnkey Projects Installations
Impressive advantages
Very low electrical cost compared to centrifuges
Relatively low equipment and installation costs
Produces dehydrated sludge ready for further processing or for land spreading
Operates with minimal supervision due to its high level of automation
Provides stable and reliable operation adaptable to frequent product variations
Requires minimal space

Reliable equipment – Useful and ecological end product
Dehydrates municipal and industrial sludge and produces cakes to be further processed as fertilizers, combustibles or inert aggregate material
Processes sludge from inlet solids content as low as 1.5%, if installed with a draining table from Berlie Technologies Inc., and can dehydrate to dryness up to 15% to 45% depending on the composition of the sludge
Maintenance costs are very low and predictable

 Superior results
Quebec City has 5 belt filter presses on site purchased from Berlie Technologies Inc. These presses currently dehydrate the municipal sludge from a population of approximately 600,000 people. This amount of primary wastewater treatment sludge, which is currently of 50 dry metric tons per day, corresponds to the capacity of 2 ½ of the 5 belt filter presses installed, each of which has a belt width of 2.5 meters.
This sludge is dehydrated from approximately 5% in solids content at the inlet to approximately 27% at the outlet.This amounts to a belt loading of about 745 pounds of dry solids per meter of belt width per hour. The dehydrated sludge is then conveyed to the rotary dryers and, finally, to the incinerator as an additional fuel source of which the calorific value is estimated to be of 13.4 MJ/Kg.
BERLIE BELT FILTER PRESS
with belt widths from 1 to 3 meters
Worldwide references
Berlie Technologies Inc. contracted and delivered, in turnkey projects, a large quantity of belt presses to municipalities, paper mills and other industries in North America and developed a wide expertise working with various sludges in combination with various polymers, belt types and press adjustments.
The system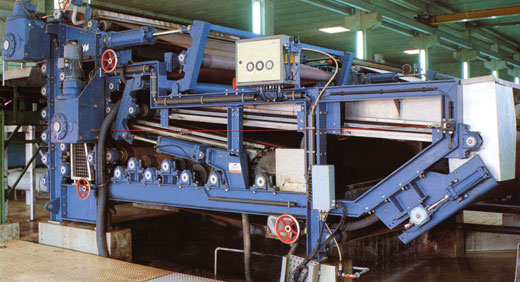 Advanced technology
Solids loading can vary between 400 lbs (181 kg) to more than 1000 lbs (454 kg) per meter of belt width per hour depending on sludge properties.
Energy savings and recovery
Electrical consumption below 10 Kw-hr/dry ton processed.
Certifications
ASME, U, PED, ATEX
Groupe Berlie-Falco
YOUR 360° SOLUTION
Groupe Berlie-Falco offers turnkey solutions to optimize your production processes and systems. Our services incorporate the design, manufacturing, installation and commissioning of processes and specialized superior alloys equipment.
Groupe Berlie-Falco has complete expertise in biosolids and organic residuals treatment, water treatment, customized manufacturing processes and specialized technical services.