Partnerships and associations
After more than 30 years working in the municipal (anaerobic digestion and sludge dewatering and drying industries), sanitary (brewing, dairy, food and beverage, cosmetic and pharmaceutical industries) and industrial (mining, chemical, oil and alternative energy and pulp and paper industries) sectors, Groupe Berlie-Falco has built fruitful partnerships in its various fields of expertise. The following associations were forged with valuable partners who support Groupe Berlie-Falco as it provides inventive solutions.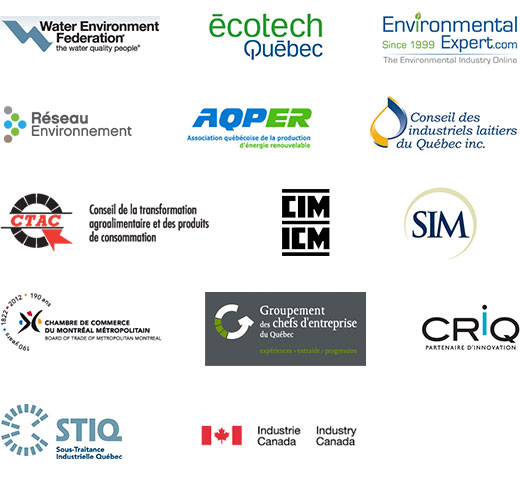 The WEF defends public health by promoting safe, clean water. It is a technical and educational not-for-profit organization whose affiliate members are water quality professionals from around the world. Through its membership in the organization, Groupe Berlie-Falco contributes to the WEF's objective of improving water quality worldwide, including by applying its anaerobic digestion and sludge dewatering and drying processes.
Écotech Québec unites and mobilizes the cleantech industry around common goals and concerted actions. This makes it an ideal partner for Groupe Berlie-Falco, which strives for excellence in clean technologies such as anaerobic digestion and sludge dewatering and drying.
Environmental Expert is a virtual meeting place for creating professional relationships and conduct B2B commerce. The organization connects more than one million businesspeople from the environmental field to over 32,000 companies and organizations providing the products, services and information they need daily. The many online services provided by Environmental Expert help Groupe Berlie-Falco create links with the environmental professional community.
By bringing together Quebec's environmental specialists, businesspeople, municipalities and industries, Réseau Environnement promotes the advancement of science and technology, the building of expertise and the support of environmental activities with a view to sustainable development. Through this partnership, Groupe Berlie-Falco surrounds itself with cleantech specialists, promoting compliance with standards in anaerobic digestion and sludge dewatering and drying.
AQPER promotes the development of renewable energies with a view to sustainable development. Through this collaboration, Groupe Berlie-Falco displays itself as a corporate citizen in its anaerobic digestion and sludge dewatering and drying processes.
The Conseil des industriels laitiers du Québec represents private dairy companies in Quebec and promotes the economic, social and professional development of its members. As a designer and manufacturer of specialized stainless steel equipment for various industries, including the dairy industry, Groupe Berlie-Falco is a member of CILQ.
CTAC is the main group of food processing and distribution companies in Quebec. It represents, promotes and advocates for its members to all food processing and consumer product industry stakeholders. It also promotes the competitiveness of its members on the Quebec, Canadian and foreign markets. As a member of this council, Groupe Berlie-Falco gives its utmost to provide the highest quality facilities to its clients.
SIM provides companies with occupational health and safety and skills management training. It is the only OHS trainer whose training is recognized by every international company it serves. By choosing SIM, Groupe Berlie-Falco certifies the quality of its employees' training.
The BTMM promotes the economic development of its region by being the voice of the business community. Through its relationship with the Board of Trade, Groupe Berlie-Falco maintains links with specialized and competent organizations.
As a support network promoting the advancement of SME owners and their succession, the Groupement des chefs d'entreprise du Québec offers Groupe Berlie-Falco networking opportunities with other key players in the field.
This state-owned company is dedicated to industrial research and to bolstering the competitiveness of Quebec industry while supporting business innovation.
Groupe Berlie-Falco's engineering teams are supported by CRIQ in their innovative design projects in all their various fields of expertise: anaerobic digestion, sludge dewatering and drying, process equipment manufacturing and manufacturing of specialized stainless steel/superior alloy equipment.
STIQ is an association of Quebec-based manufacturing companies. Their professional and technical services assist Groupe Berlie-Falco with its supply chain, its supplier relations and its business growth. The company can therefore count on the best-qualified professionals to foster the development of its custom processes and specialized technical services.
Industry Canada wishes to establish a favourable investment climate, stimulate innovation, expand Canada's presence on global markets and create a fair, efficient and competitive marketplace. It supports Groupe Berlie-Falco in its implementation of smart industrial solutions such as anaerobic digestion and sludge dewatering and drying.
PROJECT EXAMPLES
Certifications
3-A, ASME, U, PED, API
Groupe Berlie-Falco
YOUR 360° SOLUTION
Groupe Berlie-Falco offers turnkey solutions to optimize your production processes and systems. Our services incorporate the design, manufacturing, installation and commissioning of processes and specialized superior alloys equipment.
Groupe Berlie-Falco has complete expertise in biosolids and organic residuals treatment, water treatment, customized manufacturing processes and specialized technical services.