PROCESS ENGINEERING | STAINLESS STEEL AND SPECIALTY ALLOYS EQUIPMENT
ASME and 3-A certified manufacturing and on-site work
Groupe Berlie-Falco has over 30 years of experience designing process solutions and manufacturing stainless steel and superior alloys equipment. It is able to provide its clientele with turnkey solutions thanks to its experienced team of engineers and technicians, its specialized equipment and its unique system of fabrication bays with overhead clearance ranging from 30 to 70' and lifting capacity of 90,000 lb.
As a specialist in the design and manufacturing of stainless steel and superior alloys equipment, Groupe Berlie-Falco offers a wide variety of products to its clients. Its turnkey approach integrates the following services:
Process engineering
Mechanical engineering
Project management
Customized manufacturing
Automation and instrumentation
Equipment installation
On-site erection
On-site repair and upgrade
Piping installation
Start-up
Training
PROJECT EXAMPLE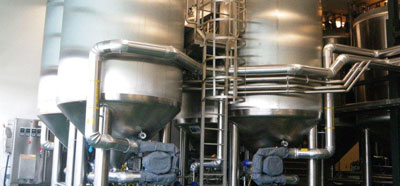 L'Oréal, Montreal (Canada)
Equipment integration; design and manufacturing of vessels and pump skid for a water recovery process using hyperfiltration and reverse osmosis
Certifications
ASME, 3-A
Groupe Berlie-Falco
YOUR 360° SOLUTION
Groupe Berlie-Falco offers turnkey solutions to optimize your production processes and systems. Our services incorporate the design, manufacturing, installation and commissioning of processes and specialized superior alloys equipment.
Groupe Berlie-Falco has complete expertise in biosolids and organic residuals treatment, water treatment, customized manufacturing processes and specialized technical services.